A Social Activist's Ultimate Legacy
Advocating The Right To Die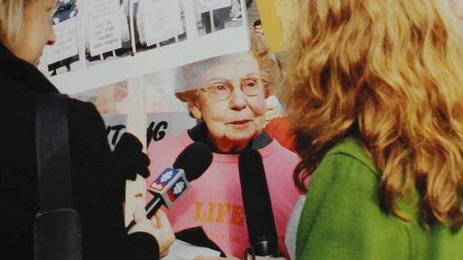 Published Saturday, Mar. 02 2013, 8:00 AM EST
By SANDRA MARTIN
Ruth Goodman's final act was a suicide note imploring that people be allowed to choose how and when to end their lives
.
Ruth Goodman died the way she lived – on her own terms. She campaigned for social justice all her adult life: by training as a welder to earn the same wages as men in wartime shipyards, by speaking out for freedom of expression during the McCarthy era, by picketing napalm manufacturers in Seattle during the Vietnam War and by challenging the abortion laws in Canada after she and her husband moved north to Vancouver with their young sons to evade the voracious American military draft.
Why should life be prolonged for an aged social activist who believed the right to die was the ultimate human choice? That's the question raised in the aftermath of Ms. Goodman's death by her own hand and in her own bed on Feb. 2.
"People are allowed to choose the right time to terminate their animals' lives and to be with them and provide assistance and comfort, right to the end. Surely, the least we can do is allow people the same right to choose how and when to end their lives," she wrote in a suicide note made public by her now middle-aged sons, Vancouver mortgage funds manager Michael and Toronto architect Dean. They can't remember a time when the right to die wasn't a topic of conversation with the woman they lovingly called Mrs. Blunt. "She talked about it because she was working it out for herself. It wasn't a simple decision to make," her younger son, Dean, said over a cup of coffee in a midtown Toronto café.
Ms. Goodman wasn't suffering from a terminal disease – other than life itself – but her declining health prompted her to act on the exit plan she had begun formulating decades earlier. At 91, she was suffering from incontinence and other messy complications of the Crohn's disease she developed in her mid-80s: a badly sprained ankle kept her trapped on the second floor of her house, a series of small strokes sometimes left her disoriented and fearful.
"It was a life-affirming decision because life and death are part of the same package and she was saying, 'This is my life and I get to choose,' " said Dean Goodman, who had noticed a steep decline in his mother's health between Christmas and his final visit, in late January. By then his mother could barely walk or read and she complained of being in pain from the "top of my head to the bottom of my feet." His brother concurred: "She was a fiercely independent woman. She wanted to be in control of her life and she didn't want to have a horrible death."
Not only did she arrange her own farewell when living became intolerable, she turned her death into a political campaign, advocating "for a change in the law so that all will be able to make this choice," in a posthumous letter to the editor of The Globe and Mail.
What has surprised, even shocked, her sons is the way some people have misconstrued their mother's death as a purely symbolic act by a healthy senior. "It was almost like she was a Buddhist monk and decided to throw gasoline on herself as a protest for the right to die," Michael Goodman said, as he showed me around his mother's East Vancouver duplex last month. "That wasn't it at all."
Ms. Goodman's wish to push the conversation about assisted suicide further than medical help in dying for the grievously and terminally ill may be revisited next week. The federal government is challenging last year's ruling by the B.C. Supreme Court that the law prohibiting assisted suicide, in specific and circumscribed conditions, is unconstitutional.
'I want to go out dancing'
A quick, pain-free death is what most of us want, at some distant point in a nebulous future. Achieving that end can be a convoluted business, as Ms. Goodman's death illustrates. Wait too long and you may be incapable of finding the means or the opportunity to end your own life. That is what Ms. Goodman feared: being confined to a hospital or nursing home, her cache of drugs confiscated, or her ability to communicate so impaired she couldn't make her wishes known.
Instead, she celebrated her last birthday in December with family and friends and had her version of a last supper a few days before she died, with toasts, reminiscences and shared food. "I want to go out dancing," Ms Goodman was fond of saying, and that's what she did, metaphorically speaking.
Ms. Goodman's upper duplex is modest – a comfortable living room with aqua-tints and décor dating from the 1960s, and a Cezanne print of the card players on one wall; a long dining table where she entertained family and friends; a small office; a sunny kitchen; and her bedroom. The double bed has a brightly coloured spread, the dresser top is crammed with family photos and pictures of friends, including Dorothy Stowe, one of the founders of Greenpeace. The sliding mirrored doors on the closet reflect the accoutrements of a life that had grown physically smaller. It reminds me of Hagar's final room in The Stone Angel or the bedrooms in which I have visited ancient aunts and family friends, dear women who lived long and tough lives shaped by the Depression and the Second World War.
Her presence hovers as though she has momentarily slipped away – perhaps to the adjoining bathroom – an uneasy feeling that becomes more palpable as I agree to sit in the only chair, a rocker upholstered in pink velour. Mr. Goodman, who brings in a kitchen chair and sits by my feet, begins to cry as he talks about his mother's long history of peace protests and anti-segregation marches and the hundreds of draft dodgers and deserters who used his parents' home as a way station on the underground railroad from the United States. "The last time I saw her she was sitting in that chair," he says, surprised by the expression of his grief. "I haven't been that sad about it," he explains, adding, "we had so much time to say goodbye."
'A great marriage and a great widowhood'
Born in 1921, Ruth Fisher grew up in Brooklyn, the daughter of working-class Jews who had fled the pogroms of Eastern Europe. At 19, she married Henry Goodman and went to Illinois, where they both worked in war-time shipyards, later moving across the country to Seattle. The desire to remake the world coursed through her veins. Her son, Dean, remembers with chagrin being hauled along at the age of 7 on a protest march outside a Boeing plant. Even worse, his mother was chomping on a corncob pipe in an attempt to quit smoking cigarettes.
Six years after the family arrived in Vancouver in the protest wave of "invisible" refugees from the U.S., Mr. Goodman died of heart disease. His 51-year-old wife was devastated. After a year of mourning, she began again, taking over the mortgage-brokerage business her husband, a contractor, had founded. "I had a great marriage and a great widowhood," she liked to say, sloughing off any suggestion she should remarry. She had strong friendships with other politically active women and lots of interests, including the pro-choice movement, civil liberties and bridge. A "fantastic" player, according to Michael Goodman, she loved to chat over her cards about the right to die, while the rest of the foursome retorted that there was no shame in changing her mind.
Last visit was like a wake
"We had a pact that we would be there for each other," says writer and social activist Ginny NiCarthy, 85, from her home in Seattle. The two women had met in the early 1950s in Seattle, drawn together by "common interests and a common willingness to make political action major parts of our lives," including "the right to control their own bodies" from pregnancy to death.
And so, some 50 years later, when Ms. Goodman decided her time was near, Ms. NiCarthy visited to say goodbye. There were tears, laughter, reminiscences and gallows humour. It was like a wake, says Ms. NiCarthy, except the deceased was there taking part in the celebration.
Nobody is willing to admit being with Ms. Goodman at the end for fear of criminal prosecution for aiding a suicide. People will say she died peacefully and quickly after swallowing a combination of anti-nausea medication and a lethal dose of phenobarbital that had been acquired by a friend in Peru. Before falling asleep, she apparently said, "You have all been such incredible friends to me."
The Goodmans were lucky. When the police arrived, they found Ms. Goodman's body, the empty drug bottle on her bedside table, her suicide note and a manual opened to the section on how to end your life.
They could have treated her bedroom as a crime scene and arrested Ms. Goodman's allies. That has happened a few times to criminologist Russel Ogden, a founding director of the Farewell Foundation, of which Ms. Goodman was a member. He says he wasn't there; so does Michael Goodman, who feared his presence might speak to motive because he was a beneficiary of his mother's modest will.
Perhaps that's why he found it so haunting to be sitting again in her bedroom and speaking to a stranger, the way he once talked with his mother. "If my mother is in heaven, or wherever, I think she would love the fact that we are having this conversation because it was important to her," he said. "Her legacy is fighting for social justice and this was her last fight."
Maybe for Ms. Goodman, but for many others it is only the beginning, as baby boomers, having seen their parents die, make their own end-of-life decisions. "It's a balance," says Dean Goodman, between timing and health, a decision that he hopes he will "have the nerve" to make some day, as his mother did.
Letters: 
http://www.theglobeandmail.com/commentary/letters/feb-11-sober-second-thoughts-and-other-letters-to-the-editor/article8434878/
Final choices
Ruth Goodman's last wish was a haunting advocacy for change in our "dying with dignity" laws to allow individuals the right "to choose how and when to end their lives" (Her Last Choice – letters, Feb. 8).
While there's little support at the federal level, which is currently defending the law that prohibits assisted suicide in an appeal of a decision from a B.C. court, there's growing momentum in other jurisdictions, including Quebec. In addition, various forms of liberal laws on the matter, as it pertains to the terminally ill, have been adopted in Switzerland, the Netherlands, Belgium, Luxembourg and several U.S. states.
It's fitting that the appeal in B.C. may end up in the Supreme Court of Canada, considering that the assisted-suicide ban hasn't been examined, at that level, since 1993. Perhaps the judges might reflect on both the root word of "humane" and a quote by e.e. cummings before making their final decision: "Unbeing dead isn't being alive."
Jeffrey Peckitt, Oakville, Ont.
................
Ruth Goodman was well-named. With her passing, let's press on with the passing of a "Goodman Bill," to remember her determination to die with dignity and claim this for ourselves.
Marilyn Bar-Or, Dundas, Ont.
................
As a woman advanced in years who has had the privilege as a palliative care nurse to be at the bedside of hundreds of persons who were dying, I find Ruth Goodman's letter before her suicide quite tragic. Aging naturally brings with it a certain loss of independence, often chronic discomfort and pain, and chronic illness. Do these problems of aging mean our lives are no longer of value?
Despite the fact that I live in chronic pain, I don't believe it diminishes what I have to offer.
Jean Echlin, Windsor, Ont.
Interview with Hanno Pinder:  http://www.cbc.ca/player/News/Raw+Video/ID/2340190305/


Front page article by Grant Granger, New Westminster News Leader:
http://www.newwestnewsleader.com/news/196037261.html
Digital version of the newspaper: 
http://www.burnabynewsleader.com/eeditions/?iid=i2013030807080410


Ginny NiCarthy's CKNW radio interview:http://www.cknw.com/news/audiovault/index.aspx. 
Choose February 18 and 1 PM, click LISTEN, and you can hear the whole show.  The interview with Ginny starts at around 1:06 PM.  There are directions on the page to shuffle through the broadcast.  Start at the 6 minute point to hear Ginny.


Michael Goodman's CTV News interview: 
http://www.ctvnews.ca/video?clipId=864509

International Business Times:
http://ca.ibtimes.com/articles/435093/20130214/ruthgoodman-suicide-righttodie-canada.htm
Does the state control our bodies? 
Twenty years after landmark Supreme Court decision on right to die, debate rages on  
The Supreme Court of Canada told Sue Rodriguez she had no legal right to take her own life.
Photos of Ruth from recent years:
http://smu.gs/14MOMBc  Ruth and Dean visit Pender
http://smu.gs/14MOrPc    Ruth Goodman and Dorothy Stowe at home
http://smu.gs/X6Feum      Ruth's 91 birthday celebration
http://smu.gs/XFuUdT     The last supper, on the eve of her leave-taking
www.farewellfoundation.ca:


The Farewell Foundation believes that its members have the right to make choices about their own bodies, their physical and psychological integrity, and their basic human dignity.  The Foundation believes its members should havethe right to receiveassistance to end their lives, and that members should have the right to provide assistance.
An e-mail from Michael Goodman to his friends:
Regarding Ruth Goodman's passing, thanks for your thoughts and condolences.  As many people have been hearing through the media and the grapevine, my mother Ruth took her own life on February second after 30 years of planning. 
I, Gabe, Sharon, Janna, Janet and Dean and 100's of others, were lucky enough to be get to know Ruth very well and become products of her great teachings.  We were privileged to bask in her own particular brand of warmth.  And particularly lucky to learn from her what it was to be an activist, engaged fighter for social justice and a feminist all at the same time.  All of us, were of course sad about her passing but as she put it, "we had a hell of run, and I would like to go out laughing."  In her final days she was a mere shadow of herself. She woke up a few days before and could not remember where she was and that scared the hell out of her. Her biggest fear was being put in a home, stroke or Alzheimer's and then she would no longer be in control of her own destiny.   It is cruel near the end because it takes away ones right to choose, and while living it makes it difficult to stay in control of the ultimate choice because one cannot access the right drugs or ask for assistance from health professionals.  The system in fact pushes people to act sooner than they might ordinarily want to for fear of losing the right to choose.  At the point when life really deteriorates the elderly are unlikely to be able to access the tools and drugs they need when they have made their final decision.  In fact it is inhumane. The current laws then add insult to injury because there are legal reasons why those closest, the estate beneficiaries, cannot hold those dearest in their arms while they die. All of this of course is ass backwards for those who want the right to choose, and to be with their closest loved ones.
Near the end Ruth was having to go to the toilet 10-20 times a day and she could not keep herself clean easily. Just doing that was really tiring her out each day, and that was after two operations. Then she fell, sprained her ankle badly and could not walk without the walker and was very shaky.  The space boot cast cut into her leg and she said "what's the point, I am not getting any better."   So she stopped wearing it after a week.  The end was clearly coming and it was not going to be pretty and we all knew it. As a result of her thorough and long term plan we all had years to say good-by. About three months before she set a pretty firm date.  That got advanced by a weekend when she was made further miserable by the space boot and her temporary losses of memory.   So on Friday February first, we had the final supper together. Of course gathered around her dining room table as we had done a million times before.   That lead up has made me less sad, but of course I will miss her every day. One of her last statements to me was "hold up my end on the social justice front" and I told her I would.
Just to get me back, her final act was she left a packet of letters to be mailed. Dean mailed them and I did not realize one was sent to the Farewell Foundation. It contained a $500 dollar donation as she never outlived the depression of the thirties and was slightly unaware that $500 is not what it used to be.   Of course it arrived a week after her death.  The Founder and chief cook and bottle washer of the Farewell Foundation, Russel Ogden phoned me and told me the there was a note in it telling him to dun me relentlessly once a year at least for further donations.
So what else can we do but carry on in her footsteps? All of us caring about many of the same causes, women's rights, human rights here and abroad, ecological disaster, and doing our little bits. Her last wish was for others to help the Farewell Society buy a house so that that they can make sure others do not die alone as the system forces people to do now.   In some cases, even when there is a suicide note, the scene is even treated as crime event and the State spends tens of thousands investigating a clear cut case of suicide.  If you want to make a lasting donation in Ruth's memory we ask you and your colleagues to send a donation to the Farewell Foundation in her honor.   Much better than a park bench and I know she would appreciate it. More about the work of the Ruth and Henry Goodman Fund for Social and Ecological Justice can be found at the web site below. As we left on Friday night, Ruth's absolute last words were "you have all been such incredible friends to me."
Much love,
Michael Goodman, 
1000 - 850 West Hastings St
Vancouver, BC  V6C 1E1
604-569-2015 Office
604-569-2014 Fax
778-895-5365 Cell
[email protected]
www.goodmanfund.com
Sent: Friday, February 08, 2013 5:01 AM
I forgot to tell everyone that her obit is on page S7 of the globe today and tomorrow.   Together they are good companion pieces.   
Letter to the editor appeared on On Feb 8, 2013:
"I am a ninety one year old woman who has decided to end my life in the very near future. I do not have a terminal illness; I am simply old, tired and becoming dependent after a wonderful life of independence.  People are allowed to choose the right time to terminate their animals lives and can be with them and provide assistance and comfort right to the end. Surely the least we can do is allow people the same rights to choose how and when to end their lives.  By the time people read this, I will have died and I am writing this letter to advocate for a change to the law so that all will be able to make this choice."
Ruth Goodman,1225 East 23rd Street,Vancouver, British Columbia
That was followed by these stories, You have to wait through the commercials which are relatively short .
Links to recent media coverage on Ruth's death
http://www.globaltvbc.com/video/right+to+die+debate/video.html?v=2334459416#stories
http://www.ctvnews.ca/video?clipId=864509
On Feb 18, this story appeared in the Sun and the Calgary Herald by a well known fundamentalist Postmedia News February 18, 2013, A10 Vancouver Sun. Licia Corbella
As it turns out Licia Corbella is a member of the Billy Graham mission and as she states in article, she is fortunate enough to be able to spread the word to 40,000 viewers at the paper where she works. Of course that is not stated as writes each value free article for her City wide paper the Calgary Herald and they then bicycle the article right across the country to one of their many media outlets.http://members.shaw.ca/emilyandkaylee/corbella.pdf
This is her story:
http://www.vancouversun.com/health/Arguments+favour+assisted+suicide+rely+misinformation/7979422/story.html  
Arguments in favour of assisted suicide rely on misinformation
Postmedia News February 18, 2013, A10 Vancouver Sun.  Licia Corbella
The case of Ruth Goodman is a perfect example of how confused, illogical, uninformed and sometimes untruthful many proponents of euthanasia or physician-assisted suicide are.
Goodman killed herself on Feb. 2, with no assistance, at the age of 91 in her Vancouver home, in a bid to change physician-assisted suicide laws.  If you're scratching your head right now and saying, "huh?" don't be alarmed, you are thinking clearly and are not losing your mind.
In short, Goodman's final act makes no sense.  The reason this woman's last act is so strange is because everyone already has the right to die.  Suicide is not illegal.
"I am a 91-year-old woman who has decided to end my life in the very near future," wrote Goodman, who had worked at an abortion clinic and was involved with the B.C. Civil Liberties Association.
"I do not have a terminal illness; I am simply old, tired and becoming dependent, after a wonderful life of independence," she wrote.
"By the time people read this, I will have died.  I am writing this letter to advocate for a change in the law so that all will be able to make this choice."
To reiterate, everyone already can make "this choice." It's not illegal to kill yourself. No laws have to be changed. Anyone and everyone can commit suicide as long as they don't endanger anyone else while doing so.
What so-called right-to-die activists are actually seeking is the right for people to help other people to die - they want the right to kill other people and to have other people kill them, making legal what has been illegal in most sane places, since time immemorial.
In countries where euthanasia and physician-assisted suicide are legal - like the Netherlands - it is documented that thousands of people have been killed involuntarily by their physicians without their consent, even when a full recovery was possible.
Alas, this illogical and discordant story about Goodman has garnered much media attention, and that in itself is disturbing when you consider another story about euthanasia that has not received any mainstream media attention.
On Jan. 21, a Quebec group called the Physicians' Alliance for Total Refusal of Euthanasia sent out a news release deploring the Quebec government's commissioned report, that advocates for making physician-assisted suicide legal.
More than 300 Quebec physicians provided their signed support, beseeching all Quebecers to become aware of the dangers the report poses to their well-being and urging them to implore the opposition majority in Quebec's National Assembly to condemn it.
"This report is the work of some hand-picked lawyers who present the act of doctors killing patients as if it were part of a natural continuum with good end-of-life care," said PATRE spokesperson Dr. Catherine Ferrier.  "They and the politicians who appointed them introduce the term 'medically assisted dying' as if it were something different from killing patients.  This act is abhorrent to us as doctors, and should appal Quebecers who care about social justice and building communities that care about the most vulnerable."
A coherent, clear statement - unlike the letter Goodman wrote.
PATRE was formed in the fall of 2012 by a core group of 24 Quebec doctors, including Drs. Patrick Vinay, former dean of medicine at the U of Montreal; Abraham Fuks, former dean of medicine at McGill; Pierre Durand, former dean of medicine at Laval and many other leading oncologists and palliative care specialists.
What's perhaps most astonishing is despite the heft of those who oppose the Menard report's push to legalize physician-assisted suicide, not one mainstream media organization has written about PATRE or called to speak to Ferrier, whose phone numbers were listed on the group's Canada-wide news release.
"You're the first journalist of a major news outlet to call me," revealed Ferrier.
As a journalist friend from Montreal said to me about the lack of attention PATRE received, "our confreres have quaffed the Kool-Aid from the promoters of medical killing. Journalism as Jonestown."
It really is shameful how the side in favour of physicians killing their patients must rely on suppression of the other side of the debate and misinformation to push their insidious agenda.
Next month, the federal government will challenge to the B.C. Court of Appeal a B.C. Supreme Court ruling that said the federal law prohibiting suicide assistance discriminates against people with disabilities and doctors should be allowed to help terminally ill patients end their lives.
B.C. Civil Liberties Association lawyer Grace Pastine, who is arguing in favour of legalizing euthanasia, said about Goodman's case: "None of the countries in the world, or the U.S. states that have legislation permitting physician-assisted dying, would allow for it, in this situation," because she was not terminally ill or in pain.
Pastine is wrong. In the Netherlands, physicians are killing mildly deformed infants, depressed teenagers can request that they be killed, and recently in Belgium, deaf twin brothers were euthanized after they learned that they were going blind.  They were not terminally ill or dying and yet they were assisted in their suicide by a physician who has not been charged with their deaths.
Euthanasia proponents must rely on misinformation to sell their deadly end goal.
Too few people are killing their untruths and that threatens the lives and worth of society's most vulnerable.
Next Piece
From:Sent: E Hockin [mailto:[email protected]] 
Saturday, February 23, 2013 5:32 PM
Misinformation mars argument against medically assisted death 
WANDA MORRIS Wanda Morris is executive director of Dying With Dignity Canada.
The Vancouver Sun
21 Feb 2013

Those who oppose the right of others to have medical assistance to die at end- of- life are getting desperate.  With public opinion increasingly supporting choice, opponents are resorting to myths and misinformation in a last- ditch effort to make their... read more... 


Michael had this letter published in response to Corbella's:                   
http://www.calgaryherald.com/opinion/Goodman+speaks+right+life/8004924/story.html
MICHAEL GOODMAN, CALGARY HERALD FEBRUARY 22, 2013
Re: "Untruths used to push for euthanasia law," Licia Corbella, Opinion, Feb. 16.
As Ruth Goodman's loving son, I was dismayed to read Licia Corbella's opinion that my 91-year-old mother's death was a confused and uninformed example of why we need law reform on assisted suicide. Where are the compassion and empathy?  As my mother put it, in our society, we put animals out of their misery, don't we?  Why not human animals who are able to clearly express their wishes?
My mother was incontinent and having to go to the bathroom 15 to 20 times a day and could no longer keep herself clean.
Corbella says that my mother's "final act makes no sense."  That's no surprise, given that in 2005, she told Billy Graham's magazine: "God has enriched my life so much ... He's used me to proclaim the Gospel in a newspaper that reaches 400,000 people a week."  Since your paper purports to have objective reporting, it only seems reasonable that people writing in it ought to reveal their religious biases in editorial pieces.
While my mother's final act may be an affront to Corbella's religious views, it made total sense to me and all her devoted family and friends.  She would have loved to have had the freedom to have us with her at the end of her life, but Canada's absolute prohibition on assisted suicide casts a suspicion on anyone who supports an unassisted suicide, particularly those who have something to gain from the estate.  Children are the ones most likely to want to be at their parents' side as they pass over to the other side and most likely to be inheritors. Police and coroners are intolerant to those who accompany unassisted suicides.  My mother was a member of the Farewell Foundation, a group that accompanies people when they end their lives. My mother was aware of police intimidation of Farewell Foundation for their activities and she did not want us to be mistreated in a similar way.
Suicide is not illegal, but it is ignorant for Corbella to say "everyone can already make this choice."  My mother had to illegally import barbiturates well in advance of her final decision. Importing barbiturates is an indictable offence punishable by years in jail. Few are able to figure out how to obtain these drugs.  My mother kept her plan secret from her doctor because she did not want to be detained for psychiatric assessment and she could not put her doctor in a position of professional risk. Criminalization is a barrier to enlightened dialogue and we need law reform to bring compassion and decency to end-of-life decisions.  People who are incapacitated physically or in old age homes and who have had enough of life at the end, face an impossible situation when they want to end their lives.
I never got the chance to spend time with my mother's body for a final goodbye. My mother's body was seized by the coroner and subjected to an unnecessary autopsy, at significant taxpayer expense.  There were the bottles of barbiturates at her bedside, a suicide note and the Farewell book next to her.  Don't we in Canada have better things to spend our hard-earned taxpayer dollars on than these types of useless police exercises?  We need law reform so that people can have access to the appropriate means for ending their lives, and so they can die safely and humanely with loved ones nearby.  At this most precious moment, they do not need fear of mutilation of the body by the coroner's office, or the scene being treated as a murder investigation, as was done in the B.C. Interior when there were circumstances similar to my mother's death.
My mother's planned death was not in protest.  She lived a great life, but at age 91, she was a shadow of her former self.  She knew it was all rapidly downhill from where she was and she did not want to be around to have to go through someone else wiping her.  My mother described her pain as from her head to her toes and she did not want to move to an assisted living facility.
I'm glad that she got her peace.  It was merciful.  I am only sad I could not have been there to hold her hand in her final moments, the way she held mine all through life.
Michael Goodman lives in Vancouver.
http://www.calgaryherald.com/news/Goodman+speaks+right+life/8004924/story.html#ixzz2LvEmwakD
The next story is an interview with Hanno Pinder, done at a demonstration on the Right to Die, which took place in front of the Court House.  The demonstration was sponsored by the Farewell Foundation who made a banner with three people's outlines on it, one of which was Ruth's.  It is a great interview: http://www.cbc.ca/player/News/Raw+Video/ID/2340190305/
The Canadian Press put out this article which was picked up by many news organizations
VANCOUVER -  March 3, 2013 Ottawa Citizen, by Keven Drews
BC foundation writes protocol for "self-chosen deaths," attends suicides
Months before B.C. Supreme Court Justice Lynn Smith struck down Canada's law on doctor-assisted suicide, Russel Ogden and a colleague attended the suicide of a 90-year-old woman in the province's West Kootenays.  As Margaret Joan Lunam - a mother, veteran of the Second World War and aspiring Buddhist - ended her life, the fragrance of gilead and balm filled the crisp afternoon air of her Kaslo, B.C. home, and yellow daffodils lay nearby.
The visit wasn't a first for Ogden, a criminologist at Kwantlen Polytechnic University, who said he has attended what he calls "self-chosen deaths" for research before and has even been arrested by police.  But it was a first for him as director of the Farewell Foundation for the Right to Die, a group that will be in court Monday when the federal government appeal's Smith's ruling.  The foundation, which believes its members should be able to receive assistance to end their lives and provide assistance to other members who want to do the same, even for non-medical reasons, has published a five-page protocol for attending self-chosen deaths.
"The principal reason for attending is because members do not wish to die alone and they also wish to ensure that their death is reported appropriately to the coroner and the police," said Ogden.  "This ensures that there is no traumatic discovery by somebody who is not expecting to walk into a room and find somebody who is deceased."
The federal government appears in the B.C. Court of Appeal this week to challenge the June 15, 2012 ruling by Smith, who found the Criminal Code's provisions on doctor-assisted suicide were unconstitutional.  Specifically, Smith ruled the Criminal Code infringed on a plaintiffs' charter rights to life, liberty and security of person, but gave Parliament one year to draft new legislation.
Eight groups, including Ogden's which now represents about 280 members, have been granted intervenor status in the appeal, which will be webcast between Monday and Friday.  Protests outside the courthouse have also been announced by several of the groups.  The foundation's protocol says members choosing their own deaths who want a support team present must make the request in writing.  A member may choose death because of serious illness with intolerable suffering or because the person has lived a "completed life" and its value and meaning has diminished to the point where death is preferable, states the protocol.
Once a request is made, Ogden added, a support team of at least two people encourages the member to discuss the issue with the family.  The protocol states before the death, the support team must meet with the member who may decide to include family or friends in the discussions.  At least two meetings, however, must take place without the presence of friends, family or others who could exert "undue influence," states the protocol. Members should also consider alternatives to death, states the protocol, including medical treatment, palliative care and social support, and the support team will document those discussions and help the member explore the options.
Ogden declined to discuss the details of Lunam's death because of an investigation by the RCMP and the B.C. Coroners Service.  But according to a newsletter on the foundation's website, Lunam had a "sense of completion in her life," and only five years earlier had stopped teaching yoga. "I did not want to lose my sense of independence and the ability to choose the time and means for my death," she was quoted as saying.  The newsletter said she knew she could have travelled to Switzerland where she would have been legally allowed to receive assistance, but she didn't want to make the trip.  So on April 26, 2012, a two-member support team, including Ogden, went to her Kaslo, B.C. home.
Ogden said the support team who attends such events doesn't do anything to counsel, assist or encourage the suicide. Following the death, he said the support team notified the coroner and the RCMP and provided them with a case file.  The protocol states that case file had to include Lunam's membership with the foundation, a declaration by her that the death was self chosen, and a record of the support team's observations and conclusions about the member's lucidity.  If applicable, the file was also supposed to include available medical and psychological records and reports and a record that the member was referred to independent suicide-prevention organizations.
Ogden said he hasn't always been received positively by authorities, and in 2007, while he was conducting research at the scene of a self-chosen death, he was arrested by Vancouver police. "That was the most serious response that I had from the police," he said. "They arrived and arrested me on the spot, and it took over a year for them to conclude their file, and the conclusion in the file was that they did not believe that I had crossed the line to commit any criminal offence."
Const. Brian Montague of the Vancouver Police Department would not confirm if Ogden had been arrested, noting police won't identify a victim, witness or suspect unless a criminal charge has been laid. Suicide is not an offence under the Criminal Code, he added in an email to The Canadian Press.  "You cannot charge a person that is deceased with a criminal offence.  However, it is an offence for a person to counsel a person to commit suicide, or aids or abets a person to commit suicide, whether suicide ensues or not."
Under the province's Mental Health Act, police can apprehend a person acting in a manner that's likely to endanger his or her own safety or the safety of others, and is apparently suffering from a mental disorder, but such an apprehension is not a criminal matter, he added. RCMP Cpl. Dan Moskaluk said Mounties are assisting the BC Coroners Service in the investigation of Lunam's death.  Coroner Barb McLintock said her agency has concluded its investigation and is writing a report, which will be made public.
Because of such investigations, some people who request a support team actually decide to die alone, Ogden said, pointing to three separate cases.  Regardless, he said it's tough to be part of a support team because a friendship develops with the member before the death, and the support team knows that bond can end quickly.  "There is no pleasure in being with somebody when they end their lives.  It is a changing moment and it is a time of deep loss," he said. 


This story ran in the News Leader and is one of the best, front page and continues on page 4
http://www.burnabynewsleader.com/eeditions/?iid=i2013030807080410
This story appeared on CBC National radio, the Jim Brown show, aired Friday March 15.  http://www.cbc.ca/the180/excerpts/2013/03/15/the-right-to-die/